Georgia's DFS Bill Failed – Here's Why That's Not Such A Bad Thing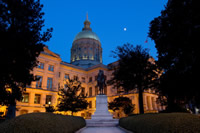 Georgia's state legislature adjourned Thursday morning, leaving a Daily Fantasy Sports bill in a Senate Committee for another year. The bill, entitled HB 118 Fantasy Contests Acts, would have amended certain gambling laws in the state. Daily Fantasy Sports operators DraftKings and FanDuel, amongst others, have been trying to officially get paid-entry fantasy sports licensed and regulated in Georgia for quite some time.
HB 118 passed the House, and with one week left in Session, was expected to be introduced to and voted on by the Senate. But the bill was never even brought to the floor. Unfortunately, sponsors of the bill were unsure of what the final vote would be.
Rather than have a failed bill on their hands, which would force the authors of the bill to start from the beginning again, Senators left the bill in committee. The bill hasn't been killed and can be taken back up by the Senate when it reconvenes next Session, January 2018. The House can also reexamine, make changes to, and revote on the bill during the next Session.
Fantasy sports haven't been banned in any official capacity by the state, but previous Attorney Generals in Georgia have stated in private that it is considered gambling; most recently (Feb. 2016), deputy AG Wright Banks, Jr. stated in writing that it is not likely legal. However, no public statements or orders have been issued for fantasy sports betting sites to stop offering gaming to Georgia residents. Without any official law keeping it regulated and licensed, though, DFS remains in a gray area. For now, operators run the risk of being shut down at any point in time if state authorities decide to act.
Why Is This Important?
Historically, Georgia has been one of the strictest states when it comes casinos and sports betting in Georgia. But now Georgia has a relatively new legislature and a new Attorney General in Chris Carr. If they were able to pass the bill through the House and almost through the Senate, it could be a sign that authorities in the state are moving towards a more open mindset when it comes to gambling in general, but especially when it comes to betting on sports.
This almost passing of a DFS bill in the state isn't the only sign of change. Georgia signed support for the Amicus Curiae brief during New Jersey's legal battle against PASPA. If New Jersey were to win their Supreme Court case against PASPA, it would kick open the door for state-controlled legalization of sports betting throughout the country. For a traditionally conservative state to sign their support to a pro-gambling cause speaks legions to the mindset of this group of legislators.
By signing the Amicus Curiae, Georgia made a public statement that they support the removal of PASPA. Now they are trying to regulate betting on fantasy sports. Clearly, the state has begun to reexamine its stance on gambling. While you might be thinking that I am looking way too far into this small event and that a failed bill is nothing to get excited over, I say it's a turning point. At the very least, it shows that Georgia legislators are viewing gambling in an entirely new and more open way.
Best Georgia Sports Betting Sites - 100% Trusted + Safe
| | | | | |
| --- | --- | --- | --- | --- |
| | | 50% Up To $250 | VISA + Wire Transfer | |
| | | 50% Up To $1,000 | VISA, Bitcoin, Cash Wire | |
| | | 50% New Member Bonus! | VISA, Bitcoin | |
| | | 100% Up To $300 | VISA, Bitcoin | |
| | | 50% Up To $1,000 | Bitcoin, Wire Xfer, VISA | |